Irish Chauffeurs
Chauffeur service
Executive travel Ireland
Professional Chauffeur Car And Limousine Service Provider
Dublin Chauffeur Travel is a professional chauffeur car and limousine service provider, dedicated to the chauffeured transportation of individuals and groups in comfort and safety. At Dublin Chauffeur Travel, we provide you with a knowledgeable and professional chauffeur, who gets you to wherever it is you need to be quickly, safely and in comfort. You will enjoy an elegant and immaculately kept vehicle from our modern and fully serviced fleet.
Send us your travel Details
Filling the Get a Quote form should take around 1 min
We will send you the quote as soon as possible and you can pay it here
That's it. Our drivers will make sure you'll have a memorable experience during your trip
At Dublin Chauffeur Travel, we strive to offer our clients high quality, professional chauffeur services and luxury limousine hire in Dublin and throughout Ireland.
We are focused on providing outstanding customer service, and our goal is to develop a positive, long-lasting relationship with our business clients.
Whether you have an important meeting in the city, a full day multi-point business schedule or you are entertaining your important clients. We will supply you with a professional chauffeur who will make sure your journey is stress-free, relaxing and enjoyable, allowing you more time to do your business.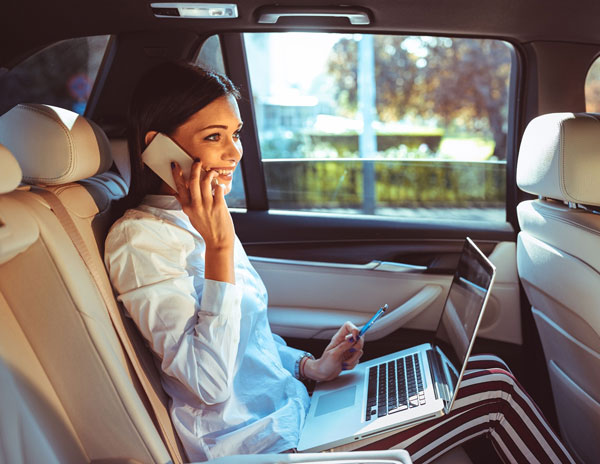 Conference & Event Transport
Dublin is a vibrant and attractive city to live and work in, with a thriving Technology and Pharmaceutical sector featuring many multinational companies. Dublin City is an excellent venue for conferences with easy access to continental Europe and the most westerly European capital city, making trips from the United States easier for business travellers.
At Dublin Chauffeur Travel, we have vast experience in organising luxurious transportation for conferences and events and we fully understand that a professional, reliable transport service is crucial for the success of any event.
Whether you require luxury chauffeur cars to meet-and-greet your guest at Dublin Airport and transfer them to their hotel accommodation, or if you need a luxury mini-bus or coach to transport large numbers of delegates between hotels and venues. We have the vehicles to cater for your event. We can assign a transport coordinator to your event to ensure all transfers are carried out on time and facilitate last-minute amendments to pre-planned schedules.
Conference & Event Transport
Irish Chauffeurs | Chauffeur service
Executive travel Ireland
Whether you are visiting Ireland for business or pleasure, travel in comfort and style while you are enjoying your time in Dublin and check out the variety of sights that the city has to offer. Our luxurious vehicles come with air conditioning, Wi-Fi and comfortable leather seating for you to sit back and enjoy the surroundings.
We will provide you with a knowledgeable and professional chauffeur who will assist you with any requests you may have.
Dublin is a small capital with a huge reputation. The city attracts hundreds of thousands of tourists and business travellers every year, and if you're one of them, consider a Dublin Chauffeur Travel limousine service to get around. If you're in Dublin on vacation with a tight schedule, waiting for a taxi can be a frustrating experience. We offer an efficient and stylish alternative to traditional taxi services – providing you with a luxurious limousine black chauffeur car or MPV, thanks to our fleet of sleek Mercedes cars and Mercedes mini-vans. Let our professional limousine driver help you to explore everything Dublin has to offer.
We can also provide you with modern, spacious Taxi cars and Taxi mini-vans during your stay in Dublin. Please pre-book your taxi with us at least 12 – 24hrs in advance as we only operate a private taxi service in Dublin to guarantee comfort and reliability.
We cater for:
Airport Taxi transfers
Restaurant Taxi Transfers
Corporate Events Taxi Transfers
Special Occasion Taxi Transfers
Hotel Taxi Transfers
Business Meeting Taxi Transfers
Student/ Staff Taxi Transfers
Taxi Tours of Dublin